I love The Lord of the Rings. Though I didn't watch the movies or read the books until I was in my mid-teens, I don't consider that a bad thing. On the contrary, I believe that experiencing it first when I was older contributed to my deep love o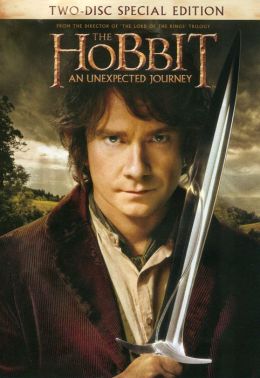 f the story.
Anyway, when a movie adaption of The Hobbit was announced, I was thrilled. Not only would there be more Middle-Earth, but I would get to see it on the big screen! I was ecstatic! With The Battle of the Five Armies, out in December, Peter Jackson has concluded his cinematic adaption of Tolkien's adventure story. I've seen all three movies, I own the first two and their soundtracks, but my feelings about the trilogy are mixed.
This isn't a review; let me make that completely clear. My intention is not to give information of the movies. I simply want to organize and share my many thoughts and emotions about the trilogy. Thus, there will be plenty of spoilers. If you want to jump in with your own thoughts, please do. I'd love to discuss this topic with you.
First of all, I neither love nor hate An Unexpected Journey, Desolation of Smaug, and The Battle of the Five Armies. Honestly, there are few, if any, things in any of them that I truly hate. Ultimately, I've come to think of the trilogy like that one song that you sing a little too long, a little too loud, and, occasionally, a little off key, because you love it so much. As I said, I was ecstatic about The Hobbit. I wanted to love it. I love Middle-Earth; I love Tolkien's elements – his characters, his themes, etc. And so, in t
hat way, I do love the movies for giving me more of that. There are, however, a lot of those too long, too loud, and off key moments.
Things I Loved
Bilbo – What a brilliant casting choice for Martin Freeman to play Bilbo Baggins. His facial expressions, his wordings… Everything about his performance as Bilbo felt true to Tolkien.
Fili and Kili – Whether you agree with me or not, I truly loved most of what was done with the characters of Fili and Kili, nephews of Thorin Oakenshield. I don't think Fili got enough focus, though. Sure, Kili's adorable, but Fili was my favorite, and I wanted more of the dependable, kindhearted older brother. In the book, they were always mentioned together. I feel rather slighted that Fili got essentially overlooked in favor of his younger brother.
Balin – Every story needs a mentor, and Peter Jackson found his in Balin, warrior of Erebor and oldest member of the Company. Now, it is true that, in the book, Thorin is older than Balin. The movies' writers chose to change that, and, honestly, I'm not particularly bothered by the choice. I love the character of Balin. He sees the good and the bad in Thorin; he senses the potential in Bilbo; he truly cares for each member of the Company. He adds a necessary element of heart to a story dominated by action.
What I Didn't Love
The CGI – I was probably more disappointed by the obvious use of CGI in these movies than by anything else. During An Unexpected Journey, I thought the visual "quirks" I was noticing must be caused by the new style of filming (48 frames/sec.). Lord of the Rings had such fabulous, innovative uses of effects, from its "bigatures" to its costuming to its sets, that I assumed The Hobbit couldn't be as CGI-heavy as it seemed. Desolation of Smaug (and the profusion of Internet complaints) convinced me otherwise. I feel like not as much focus was given to making these films as natural-feeling as possible. It seems like they defaulted to computer graphics more often than they strictly had to, and it pulls me out of the story.
The Length – Strictly speaking, it's not the actual running time that bothers me. Obviously, LotR is longer than average, and that's not an issue for me. I like long movies. In this case, though, the movies feel too stretched out. I don't really have a problem with the story being broadened (more on that in a later post). I just think it was extended too much. I'm curious about what wasn't included, though, since apparently there's a lot of filmed footage not in the movies. Three films was all right; I just wish they had been tighter, especially the first two. The stretched pace of Journey and Desolation set me up poorly for The Battle of the Five Armies, which, despite its length, felt like it rushed along without breathing room. Was I the only one who felt that way? I think the makers didn't want their time in Middle-Earth to end, which I fully understand. I can forgive a lot of the slightly bloated scenes because I, too, want to revel in Tolkien's world. Unfortunately, on the whole this indulgence came at the sacrifice of the story.
My Favorite Scene
There are plenty of little scenes I love, but I think my favorite may be the Riddles in the Dark scene in Journey. Andy Serkis' performance as Gollum was brilliant in LotR, and I feel that it only got better here. More of Smeagol's personality comes through in his interaction with Bilbo, whose reactions were priceless. This scene contains exceptional acting from both participants, it includes definite chunks of Tolkien's words, and it sets up the events of LotR. I always love watching it. A close second is Fili's protectiveness when the orcs attack Bard's house in Desolation.
My Least Favorite Scene
The climax of Battle of Five Armies. No contest there. Fili, Kili, and Thorin's deaths tore me apart, especially Fili's. I'll go more into detail about this in a later post, but that scene is definitely my least favorite in the entire trilogy. I didn't appreciate how it was done, for the most part, and the gut-wrenching lack of closure did me an incredible amount of emotional harm.
This is far from a complete hashing out of my thoughts, but I'll finish here for today. I'll do one or two more posts on this topic, in which I'll deal more specifically with other aspects of the movies. Now I'd like to hear your thoughts: What are your favorite and least favorite aspects/scenes of the trilogy? Let me know in the comments!