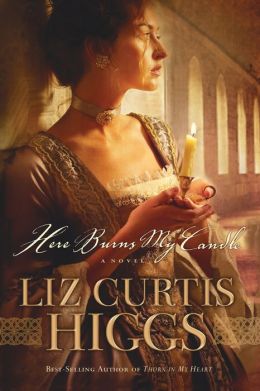 The story of Ruth, as told in the Bible, is one of the most beautiful stories ever told, in my opinion. The miracle of how a pagan came to love the One True God and supported her mother-in-law to the point of moving to a strange new land, exemplifying faithfulness, is a wonderful story in itself. But then the fact that God brought love to this girl again and made her an ancestor of King David and, eventually, Jesus Christ, illustrates how God grafted Gentiles into the tree of Israel. It also reminds us that God's sovereignty is never-ending.
In two books, Here Burns My Candle and Mine is the Night, author Liz Curtis Higgs tells the story of Ruth anew, setting it in 1740's Scotland amidst the campaign of bonny Prince Charlie.
Plot: I wouldn't have even realized it was a retelling of Ruth if I hadn't read the glowing reviews at the front of the book. Higgs creatively weaves together the classic story with new characters and situations appropriate to a different setting. Putting either of these two books down was a struggle; I read way too late with both of them!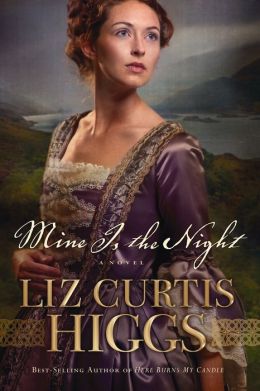 The first book, in particular, kept me guessing. The climax of the second book was a bit predictable (hard to avoid when you're retelling a story), but Higgs still slipped in some unexpected drama to change things up. All in all, I thoroughly enjoyed the plot.
Characters: The daughter of a Highland weaver, Lady Elisabeth Kerr, more comfortably known as "Bess," loves her husband, Lord Donald, but she doesn't feel welcomed by her mother-in-law, Lady Marjory Kerr or Janet, the wife of Donald's younger brother, Andrew. In addition, Bess is hiding a secret: she worships the moon, as her mother and grandmother have before her. Though the story's synopsis makes a big deal of the antagonism toward Bess from Marjory and Janet, I didn't feel like it was developed as well as it could have been. I didn't sense a lot of tension between the women, though Bess is certainly an outsider. Bess is a kind, loving woman and a likeable, empathetic heroine who is searching for true acceptance. Her husband, meanwhile, holds secrets of his own. Donald is his mother's pride and joy. But, while he truly does adore his wife, he is repeatedly unfaithful to her. I found myself remarkably sympathetic to Donald throughout the story, though I wanted to slap him every time he gave in to his weaker impulses. Lady Marjory is, at first, quite selfish and distrustful of Bess. But the cause of bonny Prince Charlie, who is from Elisabeth's native Highlands, and then grief bind her to her daughter-in-law, and she develops into a surprisingly capable, selfless woman. Janet, on the other hand, remains selfish and involved in her own world. Andrew is such a sweetheart, and I loved their servants, as well. In the second book, we meet new characters in the persons of Anne Kerr, the cousin of Marjory's late husband, along with a hardworking tailor and the mysterious but gracious admiral newly moved to the area. Though the characters are mostly well-developed, I felt that, occasionally, they jumped to an unrealistic level of affection rather quickly.
Setting: Higgs did a magnificent job developing 18th century Scotland, and every time I came away from reading the story, I wanted to speak with a Scottish accent. The city of Edinburgh and the small village of Selkirk came alive on the pages; I could imagine walking through their streets. The flavor of the stories is distinctly Scottish, which I found refreshing and authentic.
Content: The books do deal with some heavy topics, including war, adultery, death, and unwanted affection. I believe Liz Curtis Higgs handled them very well, though, showing the effects more than the actions themselves. The heaviest part, content-wise, comes in the second book, when Bess is nearly raped. Again, though, very little detail is given. I think they're definitely adult books, but they'd be fine for older teens, as well.
Theme: As in the original biblical story, the themes of new beginnings and faithfulness are important in these two books. The Providence of God is also a distinct thread. I remember reading the book of Ruth at a point in my life when I struggled to believe in the sovereignty of God. Reading that story, you can't help but be reminded that God's got everything under control. And I got the same feeling throughout Higgs' retelling, though I felt there was the tiniest bit of overkill in that message.
Altogether, I thoroughly enjoyed Here Burns My Candle and Mine is the Night. Liz Curtis Higgs keeps the story moving along without rushing it, and thus I found myself reading at all hours. She's created a story that is at once sweet, sad, dramatic, and uplifting. I highly recommend this series and look forward to reading her other books!
Have you read anything from this author? Let me know in the comments if you have! What have you been reading lately?